SedPell Seed Coating Equipment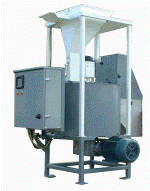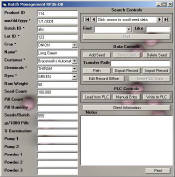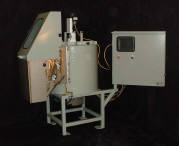 We have Four sizes of Rotarys available: 14, 24, 30, and 36 inch diameter bowls
Families
NEW: Replaceable Stainless Steel liner and chrome plated Rotor. During the coating process the seed and coating materials slowly wear away at the walls of the Stator and surface of the rotor. These are very costly to replace, recognizing this need we have incorporated an easy to replace stainless steel liner. As the liner wears out you simply remove the retaining bolts and slip in a new one and your rotor walls are as good as new again. The chrome plating on the rotor gives you a maintainable surface. As the Chrome wears off it can be re-plated preventing wear on the principle body of the rotor. Other companies use wear resistant surfaces that have to be maintained like a ceramic spreadable liner but these are often very uneven breaking the coat and collecting powder and debris in thier cavities. The liner concept insures that the coated seed is in contact with either food grade stainless steel or a hardened chrome surface to protect you seed.
RP-**DB Originally designed for Pelleting but we have found that is works equally well for enhanced filmcoating and encrustments in an operation where you have varied batch sizes and crop varieties. This model has the ability to be operated manually in "LEARNING" mode where the operator can change flow rates and start and stop pumps and feeders. After the batch is complete the rotary can repeat the manual process automatically or the process can then be saved in "Batch Management" a batching software program that runs on a server connected to the RP for use at a later time. Batch Management software can save virtually unlimited numbers of recipes for any variety of crops.
RP-**STD Designed with the same mechanical features as the DB model but in a more economical format ideal for encrustments or filmcoating. This unit has the ability to operate from one of three recipes that is programmed on the operator touch screen or it can be operated manually from the same interface. This unit can be upgraded to the DB model allowing it to be connected to a server and operate from Batch Management Software.
RP-14M Ideal for the laboratory there is no PLC control available on this unit. Pumps and feeders have speed control and on/off ability operating only in the manual mode. (RP-14 is also available in DB or STD models)
All RP models except the "M" series are available with an automatic batch weighing scale for continuous batching.
CUSTOM If you have specialized requirements such as pesticide application or if you would like to apply coating materials by weight according to batch size. Or perhaps you need to have integration with other systems such as plant shutdowns or conveying systems. Just contact us with your specialized application.
All units with the exception of the "M" series have the option of adding a batching scale to the system. This allows the coater to operate on a continuous batching system.
** - indicates all sizes with that family of controls ie: RP-30DB or rp-36db
For pricing and availability call or email us:
For information regarding our Hi-Speed Rotary Coaters, please enter your contact information (please include your email address) and any specifics you require in the box below.
Phone:1-306-825-9772 Fax: 1-306-825-2667